Cybersecurity Bootcamp
Equipping aspiring professionals with cutting-edge skills to defend against cyber threats and secure critical information in the digital age

.
100% Online | 23 Weeks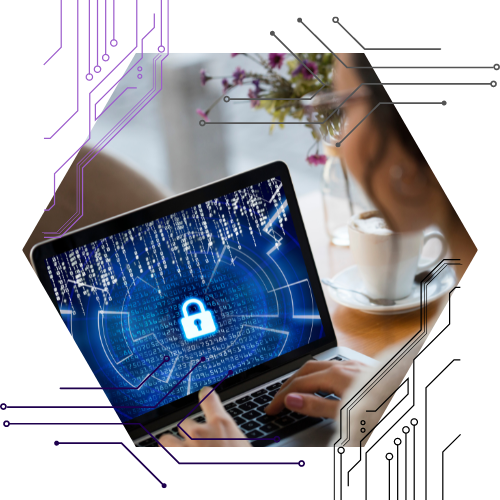 Master the Art of Cybersecurity
The Cybersecurity bootcamp is a 23-week immersive dive into hardware, network, and application security. The bootcamp prepares IT Security professionals for the responsibilities of security practitioners' operational demands and responsibilities including authentication, security testing, intrusion detection and prevention, incident response and recovery, attacks and countermeasures, cryptography, and malicious code countermeasures. explores fundamental concepts and principles of information security, in theory and in practice. Not only the course explores fundamental concepts and principles of information security, in theory, and in practice, but also allows the student to discover a range of cybersecurity tools designed to detect, identify, and protect an organization's assets. Real-world examples of information security concepts and their underlying principles are illustrated within. This bootcamp provides a comprehensive, up-to-date global body of knowledge that ensures students have the right information, security knowledge, and skills to be successful in IT operational roles to mitigate security concerns and guard against the impact of malicious activity.
Course Overview
Enrolling in a certification program in cybersecurity is a great way to gain knowledge and experience in the field. It can help you to become better prepared to protect businesses and organizations from a variety of cyber threats. The certification can also help you advance your career, as many employers are looking for professionals with specialized knowledge and training in cybersecurity. Furthermore, you can gain the necessary skills to build a fulfilling career in the industry. With the right certifications and qualifications, you can become an in-demand cybersecurity expert, which can lead to a higher salary and greater job security.
Upon completion of this credential, you will be able to:
Describe the components of a PC
Explain the fundamentals of networking
Discuss hardware and network security
Discuss threats, attacks, and vulnerability management
Discuss network troubleshooting
Explain the implementation of cybersecurity
Define risk management concepts
Discuss security operations
Explain information gathering
Explain attacks and exploits
Discuss reporting and communication
Designed For:
Cybersecurity is the most reputed and fastest-growing information technology segment that offers a variety of career opportunities. Professionals in this field may work as security analysts, security engineers, security administrators, security architects, and more. They are responsible for identifying, analyzing, and mitigating cyber threats. Employment opportunities exist in government, private industry, and the non-profit sector. The demand for cybersecurity professionals is expected to grow significantly in the coming years, as organizations increasingly rely on digital networks and systems for data storage and communication. Salaries for cybersecurity professionals can range from $50,000 to over $150,000 per year, depending on experience and expertise. There are a wide range of Cybersecurity jobs that pertain to the below job roles:
Cybersecurity Expert

Network Engineer

IT Support Engineer

Systems Engineer

Network/System Administrator

IT Auditor

Security Analyst/Manager
Threat Intelligence Analyst

IT Project Manager

Security Consultant

Compliance Engineer

Security Engineer

Cloud Security Engineer

Security Administrator
Skills Covered:
Upon completion of this credential, you will be able to:
PC Basics and Networking

Networking Fundamentals

Hardware and Network Security

Cybersecurity Essentials

CyberOPS Fundamentals




Threat and Vulnerability Management

Security Operation and Monitoring

Threat Modeling

Threat and Incident Response

Pentesting and Malware
The Cybersecurity course is a comprehensive program that teaches students how to secure and protect computer systems and networks from various types of cyber threats. The course is divided into 23 modules, covering topics ranging from basic PC knowledge to advanced cybersecurity concepts. The course provides students with a strong foundation in the concepts and skills necessary to protect computer systems and networks from cyber threats. The course covers a wide range of topics, from basic PC knowledge to advanced cybersecurity techniques, and prepares students for a career in the cybersecurity field.
Digital Defense Basics: Beginning Your Cybersecurity Journey

Cybersecurity Landscape: A Comprehensive Overview

Operating System Basics: Getting Started with Operating Systems

Secure Coding: The Foundation of a Robust Cybersecurity Defense

Network Fundamentals: Exploring Network Basics

Network Mastery: The Key to a Secure and Efficient Network

Network Security: The Frontline of Cybersecurity

Cyber Defense Strategies: Mastering Cyber Defense

Cyber Threat Hunting: How to Find and Stop Cyber Attacks?

Network Troubleshooting Mastery: Mastering Network Troubleshooting

:

Cyber Implementation Basics: Getting Started with Cybersecurity Implementation

Cloud Security: The Essential Guide to Protecting Your Data in the Cloud

Cyber Risk Management: Understanding Cyber Risk

Cyber Governance: Understanding Governance

Cyber Threat Management: Understanding

Threat

Software Security: The Key to a Robust Software Development Process

Security Operations: The First Line of Defense

Cyber Compliance: Understanding Compliance

Vulnerability Management: The Key to Preventing Cyber Attacks

Cyber Reconnaissance: The Essential Tool for Threat Hunting

Cyber Attacks: A Comprehensive Guide to the Latest Threats

Web-Based Attacks: The New Frontier of Cybercrime

Cybersecurity Communication: How to Effectively Communicate Cybersecurity Risks
CONVENIENCE
Pay all at once
One time payment
$10,800
For entire bootcamp
Paying the total cost of the bootcamp upfront.
Full access to the course
Financial simplicity
Full support
Certificate of completion
FLEXIBILITY
Installment Plan
Pay over the course of the bootcamp
$2,160
per month for five months
Dividing the total cost into equal monthly payments.
Full access to the course
Payment flexibility
Full support
Certificate of completion
FINANCING PARTNER
Meritize Financing
You are more than your credit score
*$0
*$0 in school repayment options
Checking your loan options will not affect your credit score
Get credit for your merit
Pre-approval in minutes
Competitive fixed and variable rates
No pre-payment penalty
Interested in Learning More?
Take the first step towards advancing your knowledge and skills. Complete the inquiry form now and let us guide you towards the perfect course for your educational goals.
Learn more