Medical Devices and Network Security Applications – Data Breaches
Master Mobile Cybersecurity and Data Breach Defense
100% Online | 10 Weeks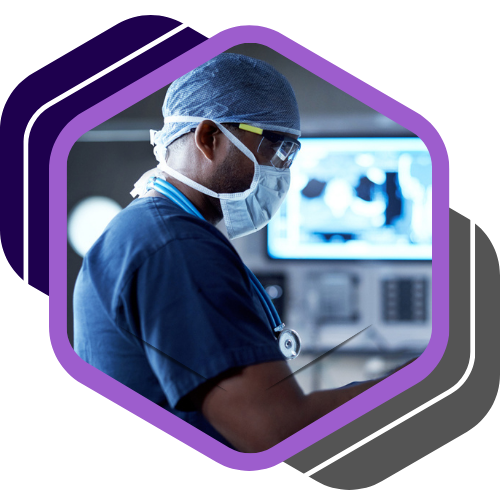 Become an Expert in Mobile Cybersecurity
The Micro-Credential program on Mobile, Medical Devices, and Network Security Applications - Data Breaches offers an immersive 10-week experience, delving deep into the realm of robust mobile cybersecurity defense. This program is designed to equip professionals with the necessary skills and knowledge to meet the demanding responsibilities of security practitioners. It covers various tasks, including authentication, application security testing, and a comprehensive understanding of web-based attacks and their countermeasures. In addition to exploring the fundamental concepts and practical aspects of information security, this course provides hands-on experience with various tools to enhance the robustness of software development processes. The course provides an extensive and up-to-date global knowledge base, ensuring to have the essential information, security expertise, and skills required to excel in roles related to mobile security. Its primary focus is on mitigating security threats, fostering an understanding of cyber threat hunting and software security, and ensuring success in the constantly evolving field of cybersecurity.
Upon completion of this credential, learners will be able to:
Compare Internet and embedded appliances
Use support and scripting tools
Compare OSI model network functions
Explain network troubleshooting methodology
Introduce different cryptographic theories
Explain social engineering attacks
Implement identity and account management controls
Implement secure mobile solutions
Summarize secure application concepts
Cybersecurity is a fast-growing information technology segment. There is a wide range of Cybersecurity jobs in Mobile, Medical Devices, and Network Security Applications such as:
Mobile Device Management (MDM) Administrator
Security Operations Center (SOC) Analyst
Mobile Security Analyst
Application Security Specialist
Get Started
On-Demand Credential
$3,550
For entire credential
Enroll now to take the steps to advance your skills and career.
Full access to the course
Complete credential in hours
Complete from anywhere
Certificate of completion
FINANCING PARTNER
Meritize Financing
*$0
*$0 in school repayment options
Checking your loan options will not affect your credit score
Get credit for your merit
Pre-approval in minutes
Competitive fixed and variable rates
No pre-payment penalty
Interested in Learning More?
Take the first step towards advancing your knowledge and skills. Complete the inquiry form now and let us guide you towards the perfect course for your educational goals.
Learn more